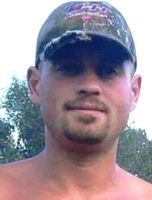 Matthew Daniel Herrick
Bangor—Matthew Daniel Herrick, Sr., 33, passed away unexpectedly June 13, 2017, in Bangor. He was born Nov. 13, 1983 in Gloucester, MA, the son of Michael Herrick and Marielle (Bois) St. Louis.
He was most proud to be a father to his two sons, who he adored. He worked in many fields, including construction and carpentry. He enjoyed cutting trees, cooking, and fishing. He was an avid reader. Matthew was the biggest fan of the New York Jets. He touched many lives with his wit, sense of humor, and gentle kindness.
Matthew was predeceased by nephew Elliot Bois-Horne; grandparents Ovide and Cecile Bois. He is survived by sons Matthew Jr. and Johnathan; mother Marielle St. Louis and husband Clarence; sisters Julia Miles and Nicole Bois; brothers Robert Bois and Kevin Herrick; nieces Oceana and Faithlyn; nephew Caleb.
There will be no services. Messages and memories may be shared with the family at kileyandfoley.com
Arrangements by Kiley & Foley Funeral Service, 299 Union St., Bangor.