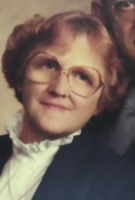 Marie Jeannette Schinck
Marie Jeannette Schinck, 100, wife of the late Clement Schinck, died Sept 18, 2017 at the Maine Veterans Home in Bangor. She was born Jan. 13, 1917 in Brunswick, the daughter of George and Florilda (Nadeau) Dubreuil.
Marie was a devout catholic and communicant of St. Paul the Apostle Parish, Mary's Catholic Church and was a dedicated mother, grandmother, great grandmother and homemaker. She lived a long wonderful life.
Surviving are five children, Maurice Schinck and his wife, Sharon of Brewer, Marcelle Rodebaugh and her husband, Ralph of Brewer, Robert Schinck and his wife, Starlene of Glenburn, Russell Schinck of West Virginia and Jean Schinck and his husband, Nick Grant of Bucksport; 13 grandchildren, 9 great grandchildren and 2 great great grandchildren. She was predeceased by her husband and three siblings.
A graveside committal service will be held 3 PM Friday at Mt. Pleasant Cemetery, 449 Ohio St., Bangor. Arrangements by Kiley & Foley Funeral Service, 299 Union St., Bangor. Messages and memories may be shared with her family at kileyandfoley.com.