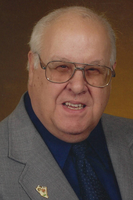 George E. "Bouncy" Searway
Bangor—George (Bouncy) E. Searway, 85, passed away Sept. 24, 2017, at Maine Veterans Home. He was born July 2, 1932, to Raymond and Charlotte (Foster) Searway.
George was better known as Bouncy. He attended St. John's School and John Bapst High School (Class of 1952). He played all sports. After graduation, he attended Higgins Classical Institute and then enlisted in the U.S. Air Force in 1953. While in the service, he studied Recreation at Northwestern University. He played on their championship football team, which played and won a game in Cuba. Following his military service, he came back to Bangor and attended Husson College. He then went to work for Bangor Parks and Recreation Department for 40+ years. Bouncy loved sports, coaching CYO and YMCA youth basketball, and was an official in basketball, baseball, softball, and dart ball. He was a 3rd and 4th degree member of the Knights of Columbus and served as the commander of the Color Corps. He was also a member of the American Legion in Bangor. Bouncy will be remembered for his excellent Beano calling at area senior centers and nursing homes.
Bouncy was predeceased by his parents, brothers Raymond "BoBo" and Donald Searway. He is survived by his loving wife Mary Foster of Brewer; stepsons Robert and wife Sally Foster of Pittston, George and wife Cheryl Foster of Brunswick, Michael Foster and Gail Bartlett of Solon; many nieces and nephews; numerous friends.
The family would like to thank the staff at Maine Veterans Home Bangor for the TLC they gave to Bouncy while he was there. In lieu of flowers, the family requests donations be made to Maine Veterans Home Activity Fund, 44 Hogan Rd., Bangor, ME 04401.
Family and friends are invited to visit 10 AM to 12 PM, Friday, Sept. 29, 2017, at Kiley & Foley Funeral Service, 69 State St., Brewer. A Mass of Christian Burial will be celebrated at 1 PM at St. Paul the Apostle Parish, St. John's Catholic Church, 207 York St., Bangor. Burial will follow at Mt. Pleasant Cemetery, Bangor. Following the burial, all are invited to a reception in the church hall at St. Mary's Catholic Church, 768 Ohio St., Bangor.
Messages and memories may be shared with the family at kileyandfoley.com