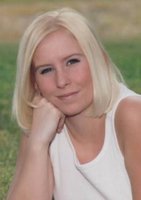 Rebecca Lee Timms
Rebecca's earthly journey came to an unexpected close on September 20, 2017. Rebecca was born to Tom and Cheryl Stevens, November 23, 1980. She later became a big sister to Katie and grew up in Dedham. Rebecca was a member of Brewer High School's graduating class of 1999, yet these were not her greatest accomplishments. The source of Rebecca's pride and joy were her children Tyler, Sam, and Max as well as her nursing career. Rebecca overcame the odds of being a teenage mom when she graduated with a degree in nursing from the University of Maine in 2003. In addition to spending time with her boys, Rebecca loved movies, decorating, fashion, shopping, and spending time with friends.
Though she may be gone, she is not forgotten. She is remembered and survived by her children Tyler, Sam, and Max Timms of Brewer; her parents Tom and Cheryl Stevens of Dedham; her sister Katie and her husband Tom; her nieces Jenna and Molly; aunts, uncles and special friends.
Those wishing to remember in a tangible way in lieu of flowers, may donate to an account set up for her children at Bangor Savings Bank , 425 Wilson Street, Brewer, ME 04412.
A celebration of her life will be 1:00 PM Sunday, October 1, 2017 at the Spectacular Events Center in Bangor. Please come and share your memories of this loyal and caring, beautiful young woman. Arrangements are trusted to Kiley & Foley Funeral Service, Brewer and messages and memories of Rebecca may be shared at kileyandfoley.com.