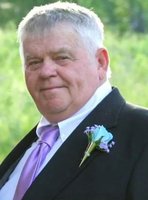 John J. Babcock, Sr.
Stetson – John J. Babcock, Sr., 76, beloved husband of Julette Babcock, passed away peacefully, Sept. 23, 2017 at his home in Stetson after a three year battle with cancer surrounded by his family. He was born July 8, 1941 in Bangor, the son of Frankie and Gladys (Downes) Babcock.
John worked for 35 years for the City of Bangor Public Works Dept and also owned and operated Babcock Towing. He loved to hunt and fish and spend time at his second home, Elsmore's Landing and he also loved traveling and going on cruises with his wife.
Surviving are five sons, Frank Babcock and his wife, Val of Otis, John Babcock, Jr and his wife, Barbara of Stetson, Robert Babcock of Carmel, Norman Babcock and his wife, Lori of Carmel and James Babcock and his wife, Margaret of Stetson; five daughters, Lisa Dunning and her husband, Robert of Orrington, Shirley Lane and her husband, Roger of Baileyville, Tammy Staples and her companion, Dan Reed of Florida, Bethany Leighton and her husband, Corey of Corinth and Corinne Shaw and her husband, Stephen of Stetson; many grandchildren and great grandchildren; nieces and nephews. He was predeceased by three brothers, Robert, Francis and Norman Babcock, a granddaughter and a great grandson.
Family and friends may visit 6 – 8 PM Thursday, Sept. 28, 2017 at Kiley & Foley Funeral Service, 299 Union St., Bangor. For those who wish memorial contributions may be made to his family, c/o Julette Babcock, 392 Coboro Road, Stetson 04488 or to Lafayette Cancer Center/CancerCare of Maine, c/o Eastern Maine Healthcare Foundation, PO Box 931, Bangor, ME 04402. Messages and memories may be shared with his family at kileyandfoley.com.