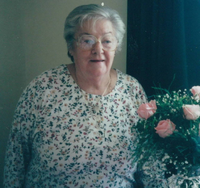 Margaret Yvonne Beaton
Bangor—Margaret Y. Beaton, 96, peacefully entered into eternity January 9, 2018, at Eastside Center for Health and Rehab. She was born April 10, 1921, in Argyle, ME, the daughter of Joseph and Georgiana (Chamberlain) Slager.
Margaret's life was dedicated to raising her nine children to be good citizens and people of faith. Her family has many loving memories of great times spent with Mom.
She was predeceased by her parents; husband Donald; daughters Laurie Mauro, Pamela Onofrietti, Donna Dilg; granddaughter Stacie Beaton; great-grandson Jaxon Leavitt; sisters Stella Goss, Priscilla Goudie, Kay Kenney; brothers Harold and Henry Slager.
Margaret is survived by children Dana Beaton and wife Martha of Whitehall, PA, Bonnie Betts of Woodville, Barbara Hanlon of Senoia, GA, Barry Beaton and wife Lee of Dingman's Ferry, PA, Brian Beaton of Dingman's Ferry, PA, Kerrie Lall of Augusta, ME; grandchildren Dana and Jason Beaton, Kenny and Karen Betts, Tracey Erickson, Kelly Hanlon, Julian Lall, Hunter Beaton, Gregory, Evan, Leah and Lisa Beaton, Maureen and Danny Dilg, Christopher Mauro and Nicole Desimone; 15 great-grandchildren; 3 great great-grandchildren; many nieces and nephews.
Mom always said, "Send me flowers when I'm alive so I can enjoy them." In keeping with her wishes, in lieu of flowers, please make a donation in her name to your favorite charity
A Mass of Christian Burial will be celebrated 11 AM, Friday, June 15, 2018, at St. Paul the Apostle Parish, St. Mary's Catholic Church, 768 Ohio St., Bangor. Burial will follow at Mt. Pleasant Catholic Cemetery, Ohio St., Bangor. A luncheon will be held at the church hall following the burial. Messages and memories may be shared with the family at kileyandfoley.com
Arrangements by Kiley & Foley Funeral Service, 299 Union St., Bangor.