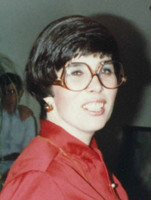 Katherine E. Harriman
BANGOR--Katherine Elaine "Gay" Harriman, 65, passed away at home March 8, 2018. She was born in Bangor on June 4, 1952, to Roland and Mary Harriman of Unity.
Katherine had a full high school career involving one-act plays, all-state band, student council, future teachers of America, and basketball while excelling at piano and clarinet. She then studied at Unity College and University of Maine, where she acquired a Masters in Psychology. While studying at Unity College, she was named "Who's Who Among Students in American Universities and Colleges". Katherine then shared her training and desire to help others by managing five rehabilitation facilities in the State of Florida. She returned to Maine later in life to be with family. She was always accompanied by her beloved dog Tucker, her constant companion. Her neighbors spoke fondly of her emotional support and helping hand.
She is survived by brothers Dana Harriman and wife Susan of AZ, Dennis Harriman and Doris Inman of Belfast and Michael Harriman and Eileen of Saco; nieces and nephews Christopher Harriman and wife Judy, Katherine Harriman, Kirk Ross and wife Adriane, Jarod Harriman and wife Jennifer, Sara Brown and husband Josh, and Joshua Harriman and wife Katherine; great-nieces and nephews Kyle, Elijah, Eden, Emma, Zachary, Samuel, Kassandra, and Elsa.
Services will be held at a later date. To honor her love of animals, the family requests donations in lieu of flowers be made to the Bangor Humane Society at 693 Mt. Hope Avenue, Bangor, ME 04401 . Arrangements by Kiley & Foley Funeral Service, 299 Union St., Bangor. Messages and memories may be shared with the family at kileyandfoley.com