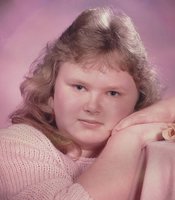 Shauna L. Damuth
Shauna L. Damuth
Orrington – Shauna Lee Ann Damuth, 47, died unexpectedly May 4, 2018 at her home in Orrington. She was born Oct. 6, 1970 in Portsmouth, NH, the daughter of Glenn A. and Helen L. (Royal) Damuth.
Shauna was a 1989 graduate of Brewer High School and attended Univ. of Maine, Augusta. She was a Majority member and Grand Cross of Color member for the International Order of Rainbow for Girls. She worked as a nanny for many years which she thoroughly enjoyed. Shauna donated her time and talent to making casseroles for church suppers and baking bread for church fairs. She enjoyed her time as the stage manager for Mainely Music Chorus, was an avid reader and was a member of the Mystery Book Club at the Bangor Public Library.
Shauna is survived by her parents of Orrington; two sisters and one brother, Lizabeth Edwards and her husband, Wayde of Cherryfield, Mark Damuth and his wife, Dora of Springvale and Carrie Damuth of Orrington and her fiancé, Edwin Caride; nieces and nephews, Jason, Melissa and Sherri Lynn Ross, Jason Rines and Jessica Damuth; great nieces and great nephews, Kodie, Logan, Bayle, Saphira, Dymond, Jasmine and Kayden; aunts and uncles, Dorothy Gray, Lois Gross, Charles and Eunice Royal, James Royal; many cousins and friends.
A celebration of Shauna's life will be held 4 - 6 PM Saturday, May 12, 2018 in the fellowship hall of East Orrington Congregation Church, 37 Johnson Mill Road, Orrington. Private burial will be at Marston Cemetery, Orrington. For those who wish, memorial contributions may be made to the food cupboard at East Orrington Congregational Church. Arrangements are trusted to Kiley & Foley Funeral Service, 69 State St., Brewer. Message and memories may be shared with her family at kileyandfoley.com.