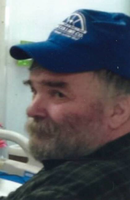 Geoffrey D Picard
Geoffrey Dawson Picard
Howland – Geoffrey D. Picard, 69, passed away peacefully on Nov. 19, 2018 at the Maine Veterans Home in Bangor. He was the son of Earl and Irma (Stickrad) Peacor.
Geoffrey attended Galway Central High School and Union College of New York. He enlisted in the US Army serving in Vietnam. His employment included insurance sales and construction.
Geoffrey leaves behind his wife, Ann (O'Kane) Downes Picard; sister, Priscilla Peacor of Galway, NY; his children, Jason Picard, Sarah Picard, Geoffrey Picard, G. Wyatt Picard, Nathaniel Picard, Emily Picard and nine grandchildren. Geoffrey was a kind and gentle soul who will be missed by everyone who knew him.
A celebration of his life will take place this coming summer. Arrangements trusted to Kiley & Foley Funeral Service, Bangor and Brewer. Messages and memories may be shared with is family at kileyandfoley.com.