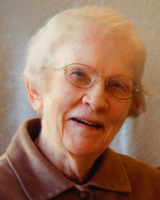 Norma W Johnson
Orono--Norma Elizabeth (Woods) Johnson passed on Friday, January 18, 2019 in the care of the wonderful staff at Orono Commons and the team of Beacon Hospice.
She was born April 27, 1923 in Hillside, New Jersey to John Woods and Margaret (McBride) Woods. Her brother, John, of Point Pleasant, New Jersey predeceased her in 2002, and she is survived by her sister, Gladys, who recently moved to Tennessee to be near her daughter's family. Norma was raised in Union, New Jersey where she graduated from Union High School in 1941, after which she worked for General Motors in Linden, New Jersey. In 1946 she married Frank Johnson, also of Union, and they had two children – Frank "Louie" of Bangor and Bonnie Lynn Gocze of Searsport. Bonnie and husband Tom Gocze gifted Norma with four wonderful grandchildren – Alex Gocze of Bar Harbor, Peter and Melanie (Blisch) Gocze of Winterport, Maria Gocze and Chris Ingram of Winterport, and Hillary Gocze of Bangor.
Norma moved to Bangor, Maine in 1983 to be closer to her grandchildren, and when she felt the need for assisted living, she moved to Phillips-Strickland House in Bangor. By 2017 she had developed dementia and was moved to Orono Commons, where she was highly regarded for her good nature, humor, and kindness. In recent weeks she had a major stroke and was placed in hospice care. She was a fan of big band and jazz music, enjoyed making people feel better about themselves. She attended All Souls Congregational Church in Bangor for many years. She is remembered as a very caring and giving person. Her presence in the world made life better for all who knew her.
Arrangements by Kiley & Foley Funeral Service, 299 Union St., Bangor. Messages and memories may be shared with the family at kileyandfoley.com