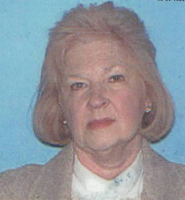 Ruth Amanda McCartney
Westford, MA & Newport—Ruth Amanda McCartney, 79, passed away January 27, 2019. She was born March 9, 1939, in Brewer, to Roland and Phyllis (Nickerson) Guthrie.
Ruth graduated from Brewer High School and went on to graduate from Boston University and Bridgewater State, where she earned her Master's Degree in Elementary Education. She was a teacher in Chelmsford for 12 years. She met her future husband at a honky-tonk bar and they were married on August 16, 1969. Ruth raised two children and enjoyed time spent with family. She bred Himalayan cats for a time. She enjoyed traveling and cherished the time spent at her second home on Sebasticook Lake, often surrounded by her extended family.
She was predeceased by her parents and sister Roberta Tharpe. Ruth is survived by her husband of nearly 50 years, Steven McCartney of Westford, MA; sons Steven McCartney Jr. of Largo, FL, and Michael McCartney and wife Janelle of Derry, NH; granddaughter Olivia; sisters Diane Sadowski and husband Robert, Christine Bailey and husband Kevin; brother Roland "Doc" Guthrie, Jr., and wife Mary Kay; many nieces and nephews.
Family and friends are invited to visit 10-11:30 AM, Monday, February 4, 2019, at Kiley & Foley Funeral Service, 69 State St., Brewer. A Mass of Christian Burial will be celebrated at 12 PM at St. Paul the Apostle Parish, St. Teresa's Church, 425 South Main St., Brewer. Burial will follow at Mt. Pleasant Catholic Cemetery, Bangor. Messages and memories may be shared with the family at kileyandfoley.com