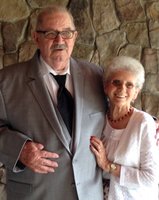 Kenneth Francis Gallant
Bangor--Kenneth F. Gallant, 83, passed away on April 24, 2019, after a brief battle with cancer surrounded by his family. Ken was born in Boston, Massachusetts, to Albert J. Gallant and Catherine (Murphy) Gallant on July 7, 1935. He married the love of his life, Sylvia (Marquis) Gallant on November 27, 1954. He enlisted in the Air Force in 1952 where he served for nine years and was a Korean War Veteran. In 1958, he received the Soldiers Medal for Heroism for saving the life of a child from a burning home. He later worked as a truck mechanic and independent owner/operator truck driver. His true passion was harness racing and called the Bangor Raceway his second home where he owned and trained numerous horses over the years. Some were actually as good as the stories he told.
He is preceded in death by his parents; brothers Albert "Gilley" and Arthur "Bud" Gallant. Ken is survived by wife, Sylvia; son Daniel Gallant and wife JoAnn of Bangor; daughters Jolene Newell and husband Rand of Newburgh, Doreen DuFour and husband Greg of Rockport, Cindy Biggar and husband John of Levant, Lori LaPointe and husband Rick of Topsham; 10 beloved grandchildren; 15 great-grandchildren; sisters Rita Scaglarini and Catherine Turner; brother Donnie Gallant; sister in-laws Bernice "Bunny" Newcomb and Barb Gallant; several nieces and nephews.
Memorial donations may be made out to: Ross Manor, in Memo line: Engel Place Activities, Attention: Marcia Theriault, 758 Broadway, Bangor, ME 04401
Family and friends are invited to 11 AM to 1 PM, Sunday, April 28, 2019, at Kiley & Foley Funeral Service, 69 State St., Brewer. Burial with military honors will be held 9 AM Monday, May 13, at Maine Veterans Memorial Cemetery, 163 Mt. Vernon Rd., Augusta. Messages and memories may be shared with the family at kileyandfoley.com