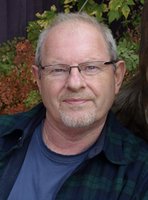 Anthony W. "Andy" Small
Anthony W. "Andy" Small, 64, passed away peacefully at home with his family at his side. He was born August 9, 1954 in Bangor, the son of Nedra (Wilson) Colbeth, and Richard M. Small. Andy grew up in Cherryfield and had worked as a medical technologist at Eastern Maine Medical Center. Always known as a unique individual, he enjoyed spending time with his family and friends, playing the drums, traveling, and spending time around the fire. He volunteered at Sarah's House of Maine, which was very special to him.
Surviving in addition to his spouse, Walter Moore of Bangor are his four children: Joshua Small and Stesha Cano, Matthew Small, Dylan Small and Krystal Duda, Kate Small and Cody Woodman; six grandchildren: Zachary, Lauren, Evan, Charlie, Claire and Sadie; His mother Nedra and stepfather Fulton Colbeth; His siblings, Timothy Small and his wife Becky, Thomas, Kim and Kathy Colbeth, Sandy Small and Stevie Small; nephews Justin and Ryan Small, Fulton Colbeth, and Cody Hamor.
Andy is also survived by his mother and father-in-law, Kenneth and Mary Moore, other in-laws Cynthia and Galen Thompson, and Eric Moore; Megan Nightengale and Peyton. Andy was survived by his daughter in law Tina Hawkes, as well as numerous close friends. Andy was predeceased by his father Richard, and his beloved grandmother, Martha Farren.
A celebration of Life will be held Friday, May 10, 2019 from 5 - 8 p.m. at Jeff's Catering, 15 Littlefield Road, Brewer. Please join us as we remember someone who could only be described as one of a kind. The family asks that people please bring a story they might want to share, or write one down so we can share it. We know that there are many. For those who wish, memorial contributions may be made to Sarah's House of Maine, c/o Delores Landry, 346 Maine Road, Holden ME 04429 or at sarahshouseofmaine.org. Arrangements trusted to Kiley & Foley Funeral Service, Bangor and Brewer.