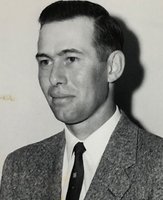 John C Lausier
Jean Charles "John" Lausier
Bangor - Our father, Jean Charles "John" Lausier, died on May 3, 2019 at the age of 89 from peripheral vascular disease. He was born in Grand Isle, Maine on June 14, 1929, the son of Alfred Joseph Lausier and Alice Rose Dionne, the fourth of their nine children. The family moved to Presque Isle in 1943 when they bought a potato farm on the Caribou Road. It would later go by the name, KVL Farms. He graduated from Assumption Preparatory School in Worcester, Massachusetts where he played football and learned English with the help of his professors who were from a Belgian religious order. Afterward, his father needed his help to operate the farm and he returned to Presque Isle from 1947 to 1971. He met our mother, Lorraine, through his sister Lucille when she invited her to the farm after Sunday Mass. Our parents would marry on June 16, 1951 and had a family of two girls and four boys. The work ethic that our father embodied his entire life was evident early on. We all picked potatoes in the fall and the eldest among us loaded 50 pound bags onto tractor trailer trucks on winter Saturdays. We picked rocks in the spring and cut seed potatoes for planting. This same work ethic was a gift to us that helped us in whatever careers we pursued. Our Dad did not get the chance to attend college after prep school, but our parents worked hard to ensure all of us could pursue college or professional degrees. Dad had many skills and in spite of managing a several hundred acre farm, still found time when we were very young to build an A-frame camp on Echo Lake that became an extended family gathering place. Another family destination that he and Mom loved from the time we were young was Wells Beach, Maine. Our family would leave the farm and Dad would start a second career selling heavy machinery for Eastern Tractor and eventually for Southworth Milton, now Milton CAT in Brewer. He had the paper company accounts in Maine and New Hampshire and the French speaking accounts in Northern Maine because he was bilingual. Dad and Mom moved to Farmington in 1977 after a few years in Chester, Vermont and would live there for 38 years. They were both very involved at St. Joseph's Catholic Church as Eucharistic ministers. After his retirement, Dad enjoyed meeting with his group of friends for coffee every morning at McDonalds. Our parents would spend 25 years in Orange Beach, Alabama where they would find a wonderful group of "snow bird" friends whom he would meet for coffee and Bingo. After they could no longer travel south, they came to live next door to their eldest son in Bangor. One of the biggest joys of his life was following the New England Patriots, the Boston Red Sox and golf. We had great celebrations with him during his last year for the Super Bowl and World Series wins. He was also thrilled to see Tiger Woods win the Masters Tournament from his hospital bed. Watching "The Andy Griffith Show," "Jeopardy," "Wheel of Fortune" and "60 Minutes" with his family was a favorite pastime as well.
Dad lived 31 years with prostate cancer and received an array of new treatments over the years. In recent years, Cancer Care of Maine's Dr. Jens Rueter and Dr. Sheila Pascual were kind clinicians and advocates for Dad. He was told at 62 to, "Go and enjoy what life you have left" so we never dreamed he would have all these years with us. In addition to his parents, Dad was predeceased by our mother, Lorraine, in 2018 after 66 years of marriage; two infant grandchildren, Timothy and Sarah Urban; his step mother, Eva Daigle Lausier; sisters Lucille Dreyfuss, Anne Gallagher, Germaine Ladner and Sr. Alice Lausier, DW; brothers Alfred and Claude Lausier; and nieces Claudia Lausier, Diane Poskus and Maureen Gallagher.
He is survived by his brother Pierre Lausier and sister Florence Roy of Mobile, Alabama; his children, Mark Lausier and wife Mary of Bangor; Catherine Hilliard and husband Kevin of Plainfield, New Jersey; David Lausier and husband Victor of Alexandria, Virginia; John Lausier of North Ferrisburg, Vermont; Lisa Urban and husband Ward of Rye, New York; and James Lausier of Key West, Florida. He is also survived by Catherine's daughters Caitlin Ficke, Clare Dunbar and Mary Gregory; Mark's daughters Katherine Mullikin, Anne Marie and Rosemary Lausier; Lisa's sons Ward, John and Christopher Urban; as well as his great-grandchildren Benjamin and Alice Ficke and Grace Dunbar.
We would like to sincerely thank the staff of the Laurel-Williams wing of Ross Manor for all the incredible kindness and emotional support they displayed to Dad and our family; Northern Light Eastern Maine Medical Center Hospice staff; St. Joseph Home Care Health physical therapy and visiting nurses staff; Loving Touch in Home Care, Caring Companions in Home Care; and Bridges of Maine.
A Mass of Christian Burial will be celebrated 11 AM, Monday, June 17, 2019, at St. Paul the Apostle Parish, St. John Catholic Church, 207 York St., Bangor. A burial will take place in Sanford, Maine. Arrangements trusted to Kiley & Foley Funeral Service, 299 Union St., Bangor. Messages and memories may be shared with his family at kileyandfoley.com.