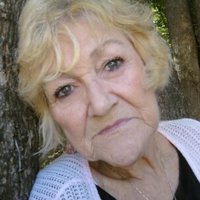 Betty Lou Rooney
Brewer--On May 10, 2019, Betty Lou Rooney (Grass) passed peacefully from our world into heaven, or as she liked to tell her grandkids: she returned home to Mars.
Betty was a fun loving woman. She grew up in Brewer with her sisters, who were known as the Grass girls. She adored her daughters and found much pride in being a grandmother and great-grandmother. She lived a simple life and had many favorite stories, which she told repeatedly. Her daughter Katherine was able to give her many vacations to Florida, shopping trips and luxuries that she loved. Her family will never forget her love of green apples with salt in the summer.
Betty was predeceased by father Lewis Grass; mother Lillian Perry; sisters Persis Sellers, Joyce Colosacco; daughter Katherine Hanson. She is survived by daughters Joyce Brasslett, Amy Sue Booker and husband Shawn; grandchildren Christopher, Heather, Joshua, Brandon, Kaylah, Brendon, Cody, Bethany, Aiden, Lily; 9 great-grandchildren; sister Sue Ann; son-in-law Dale Hanson; best friends Vicky and Rosemary. Betty was loved by all that knew her.
Messages and memories may be shared with the family at kileyandfoley.com. A Celebration of Life will be held 4-7 PM, Thursday, May 16, 2019, at Seasons Restaurant, 427 Main St., Bangor. In lieu of flowers, donations may be made to the Go Fund Me account on Facebook.
Arrangements by Kiley & Foley Funeral Service, 69 State St., Brewer.