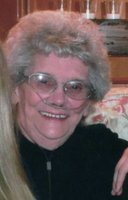 Florence L. Kearns
Florence L. Kearns, 82, wife of the late Robert F. Kearns, died July 6, 2019 in Bangor. She was born June 3, 1937 in Brewer, the daughter of Henry F. and Edith F. (Cameron) Goodreau. Florence was a dedicated loving homemaker to her family and worked with the Brewer lunch program in the school department for several years. Florence attended St. Joseph Catholic Church with her husband. She enjoyed many things including gardening, quilting, crocheting, crossword puzzles and cooking for her family. She was known for her spaghetti and meatballs and loved Christmas time with her family.
Surviving are her two sons, Ronald Kearns and his wife, Sandy and Terrence Kearns of Brewer; her daughter-in-law, Doreen Moody of Orrington; many grandchildren and great grandchildren and many special extended family members. She was predeceased by her parents and husband and two sons, Larry Kearns and Robert Kearns, a daughter-in-law, Karen Kearns and a grandson, Adam Kearns.
A graveside service will be held 2 PM Wednesday, July 10, 2019 at Woodlawn Cemetery, North Main St., Brewer. A remembrance time will be held anytime after noon, Saturday, July 13, 2019 at the family home, 55 Brimmer St., Brewer. Arrangements are trusted to Kiley & Foley Funeral Service, 69 State St., Brewer. Messages and memories may be shared with her family at kileyandfoley.com.