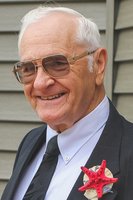 Beverly M. "Buddy" Gough
Beverly "Buddy" Merwyn Gough, 77, husband of Cynthia (Phillips) Gough, went home to be with the Lord on July 5, 2019. He was born on March 19, 1942 in Presque Isle, the son of Arthur E. and Ruth A. (McPherson) Gough.
Although Buddy loved hunting, fishing, and sports, his passion was to introduce people to a relationship with Jesus Christ. He and his wife Cindy began the Newport Church of God on July 9, 1995. He had a Pastor's heart with love and concern for all people. As part of the Maine Air National Guard 101st Air Refueling Wing, Buddy served his country for 27 years. He was mobilized overseas during Operation Desert Storm. A hard-working, entrepreneur Buddy owned and operated Gough Services for many years.
Buddy was a loving husband, father, grandfather, and great-grandfather. He and his wife Cindy shared 53 years of marriage. In addition to his wife, Buddy is survived by his two children, Bethshan McLeod and her husband, James of Concord, VA and Naomi Treadwell and her husband Bob of Hancock; eleven grandchildren, Merrianne Nissly and her husband, Micah, Matthew McLeod and his wife, Amber, Micah, Mark, Malachi, Michael, Moriah and Marissa McLeod, Brian Treadwell, Rebekah Qu and her husband, Kevin and Katherine Treadwell; two great-grandchildren, Ariella Nissly and Calum Buddy McLeod; one sister Sandra Sperry and her husband Paul, one brother Eugene Gough and his wife Candi, brother-in-law Marshall Donovan, nieces and nephews. He was predeceased by his parents and sister, Loretta Donovan.
A service to honor Buddy's life will be held 6 PM Wednesday, July 10, 2019 at Glad Tidings Church, 1033 Broadway, Bangor with Pastor David Bean and Pastor Jon Ouellette officiating. Family and friends may visit from 5 PM until the service begins. Memorial contributions may be made to Newport Church of God, 135 Chamberlain St. Brewer, ME 04412 . Arrangements trusted to Kiley & Foley Funeral Service, 69 State St., Brewer. Messages and memories may be shared with his family at www.kileyandfoley.com