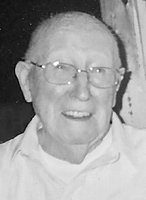 Clarence R. Fessenden
Clarence R. Fessenden, 97, husband of Lucille (Chapman) Fessenden, went to be with the Lord, Sunday, July 7, 2019 in Bangor. He was born Sept 4, 1921 in Bangor, the son of Charles and Elsie (Freese) Fessenden.
Clarence worked at Bean & Conquest as a mechanic until joining the Navy during WWII where he and two fellow sailors established the first post office in Luzon, Philippines. Clarence worked many years doing carpentry work and as a hand stitcher in shoe manufacturing and he became a foreman for Viner Bros before retiring. He and Lucille lived in Kenduskeag where he enjoyed farming strawberries and raspberries. During their retirement, Clarence and Lucille moved to Lakeland, FL where he worked at the Dodger's spring training camp and where he enjoyed his time there doing carpentry work and repairs for his Florida neighbors. They returned to Maine in 2007 and had 5 generations of their family living in their neighborhood. Clarence was an avid fisherman and a devoted Red Sox fan. Clarence and Lucille were recently recognized as having been the longest married couple in the state, approaching 80 years on Aug. 4th.
Surviving in addition to his wife of Bangor are their daughter, Lorraine Benton of Bangor; three grandchildren, Robin Benton Campbell and her husband, Kern, Tammie Benton Grant and Ernie and Stephen Benton Nystrom and his wife, Eva; 9 great grandchildren; 13 great great grandchildren; several nieces and nephews including a special nephew, Gene Crawford, who visited often. He was predeceased by his son, Raymond "Bub" Fessenden and by his nine siblings, Nellie Donahue, Alice Goodwin, Elsie Crawford, Harold, Caleb Benjamin, Francis and Albert Fessenden, Marjorie Dickinson and Arnold Fessenden.
A memorial service honoring Clarence's life will be held 11 AM Tuesday, July 16, 2019 at Corinth Baptist Church, 331 Main Street, Corinth. A luncheon and fellowship time will follow and burial will be private. Arrangements trusted to Kiley & Foley Funeral Service, Bangor and Brewer. Messages and memories may be shared with his family at kileyandfoley.com