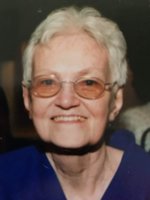 Helen Agnes Colford
Bangor--Helen A. (Kelly) Colford, of Bangor, passed away August 5, 2019 surrounded by the love of her family. Helen was born October 12, 1937 to George and Martha (McHale) Kelly.
Helen will be remembered for her pride in her Irish heritage, her deep Catholic faith, and her love for her family. Her door was always open to host birthday parties, and to love on her grandchildren. She was always happiest with a little one on her lap.
Helen was predeceased by her parents; siblings Patrick, Roland, Lawrence and Theresa Kelly, Reverend Anthony Kelly, and Frances Murray and husband Charles. She is survived by children Tony Colford, Steve Colford and partner Sandra, Maria Cameron and husband Gary; sisters Margaret Kelly and Corena Kelly; grandchildren Anjuli Madison and husband Aaron, Drew Francis, Dylan Cameron, Sonja and Julia Colford, Steven, Brianna, and Lillie Colford; great-grandchildren Noah, Caleb, Jonathan, Elizabeth, and Owen. She will also be missed by many nieces and nephews.
A Mass of Christian Burial will be celebrated 1 PM Friday, August 9, 2019, at St. Paul the Apostle Parish, St. Mary's Catholic Church, 768 Ohio St., Bangor. Burial will follow at Mt. Pleasant Cemetery, Bangor. All are invited to the church hall for a reception following the burial. Messages and memories may be shared with the family at kileyandfoley.com
Arrangements by Kiley & Foley Funeral Service, 299 Union St., Bangor.
"May the Road Rise to Meet You,
May the Wind be Always at Your Back,
May the Sun Shine Warm Upon Your Face,
and Until We Meet Again,
May the Good Lord Hold You in the Palm of His Hand"