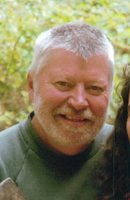 Jeffrey D. Warren
Jeffrey D. "Green Bud" Warren, 60, passed away unexpectedly Aug. 3, 2019 in Aroostook County doing what he loved, riding his Harley.
Jeff grew up and resided in Lucerne and graduated from Brewer High School. He worked in sales for Stratham Tire in Bangor for nearly 20 years and developed lifelong friendships and colleagues over the years including customers, many of whom became good friends. You know who you are.
He was born Nov. 4, 1958 in Bangor, the son of I. Harrison and Lily (Anderson) Warren. Surviving in addition to his wife, Judy of Dedham are two sisters, Linda and Nancy; nieces and nephews. Jeff also leaves behind many close family and friends.
Family and friends may visit 1 – 4 PM Sunday, Aug. 11, 2019 at Kiley & Foley Funeral Service, 69 State St., Brewer. A private burial will be at Pine Trail Cemetery, Dedham. Messages and memories may be shared with Jeff's family at kileyandfoley.com.