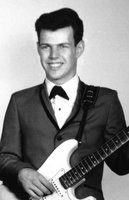 William James McGrath
Bangor – William J. "Bill" McGrath, 72, husband of the late Dianne L. McGrath, died Aug. 9, 2019 in Bangor. He was born Jan. 12, 1947 in Bangor, the son of Euseb "Pat" and Mary (Pelkey) McGrath. Bill grew up in south Brewer and lived in the Bangor area most of his life. He loved playing his guitars. He had a passion for R & B Soul music. He cherished his time spent playing in bands like The Eccentrics, Good Feeling, Trix, The Dalton Gang, Déjà Vu and The Rockin James Band. Playing began during his teen years and continued through his late 50s. He played with some of the same guys with whom he grew up, Skip and George Umel, the brothers he never had. He played at venues like the Stardust Lounge, Crystal Ballroom, The Belmont, The Bounty Tavern, and more. He was fortunate enough to have played with stars like Bobby Goldsboro, Little Eva, Del Shannon, The Drifters, and Johnny Rivers. When Bill wasn't playing in a band, he was out dancing with good friend John "Moppsy" Davis. Their dancing days may have ended a few years back but they still were best friends until the end. Bill also enjoyed playing cards, classic car shows, camping, and cooking. Bill worked in roofing in his younger years and later was "McGruff" in collections at Kelley Pontiac. Most recently, he worked at Hollywood Casino for a few years to keep busy in his retired life.
Bill is survived by his 5 children, Maria Coates and her spouse, Steve of Florida, Lindsay McGrath and her spouse, Hayley of New York, Jeff Santo and his spouse Tracy of Vermont, Kimberly Poginy and Kelly Turner both of New Hampshire; grandchildren, Carys, Parker, Cloey, Daniel, Deanna, Alicia, Joseph, Sean, Kevin, Scott, Shannon, and Sean. Bill was predeceased by his sisters, Lorraine and Loretta.
Family and friends may visit 3 - 5 PM Monday, Aug. 26, 2019 at Kiley & Foley Funeral Service, 299 Union St., Bangor where a service will be held at 5 PM on Monday as the visitation concludes. Burial will be at a later date. For those who wish, memorial contributions may be made to the National Kidney Foundation at kidney.org and messages and memories may be shared with his family at kileyandfoley.com.