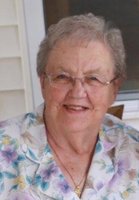 Hope G. Dougherty
Holden and Brewer – Hope Gloria Dougherty, 88, died September 5, 2019, at home surrounded by her loving family. She was born March 23, 1931, in Caribou, the daughter of Laureston and Gunhild (Stedt) Fisher.
Hope graduated from Caribou High School in 1948 and was employed as an operator for the telephone company where she met the love of her life, Charles 'Dick' Dougherty. They were married November 5, 1949 and cherished 51 years of marriage until Dick's death in 2001. In addition to her faith filled devotion to her family, she was a communicant of St. Joseph's Catholic Church of Brewer, where she served in many ways including the Altar Rosary Society, and the annual Christmas fair. She also volunteered for many years with the St. Joseph Hospital Auxiliary, St. Joseph Hospital Gift Shop, and Current Events Club. After their children were grown, Hope enjoyed working at Libby's Gift Shop and Boysenberries where she could enjoy social interaction with so many of her friends. Hope's infectious smile and mischievous personality brought great joy to her family and friends.
Hope is survived by her seven children and their spouses, Louis and Margaret Dougherty of Eddington, Susan and Robert Thomas of Brewer, Jane and Robert DeBeck of Brewer, Cindy and Kevin McEwen of Brewer, Timothy and Lisa Dougherty of Holden, Patricia and Maynard Corey of Brewer, and John Dougherty and Julia Munsey of Bangor; 13 grandchildren; 17 great grandchildren; one great great-grandchild; several nieces and nephews. In addition to her husband, she was predeceased by her sisters, Vivian Brown and Frances Dyer and her brother, Richard Boucher. Special thanks to her caregivers, Pam Carroll and Linda Burrill, in addition to the wonderful staff of St. Joseph's Hospice.
Friends may call 4-7 P.M. Monday, September 9, 2019, at St. Paul the Apostle Parish, St. Joseph Church, 531 North Main Street, Brewer. A Mass of Christian Burial will be celebrated at 11 A.M. Tuesday, September 10, St. Joseph Church. Burial will take place at Woodlawn Cemetery, Brewer. In lieu of flowers, gifts in her memory may be made to St. Paul the Apostle Parish, 217 York Street, Bangor or St. Joseph Healthcare Foundation, Attn: Hospice, PO Box 1638, Bangor, ME 04402. All are invited to a reception in the church hall following the services. Arrangements by Kiley & Foley Funeral Service, 69 State St., Brewer. Messages and memories may be shared with the family at kileyandfoley.com.