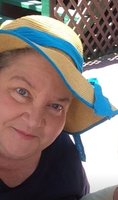 Ellen Mary York
Ellen York of Bangor 62 years old, born on September 6, 1957 went home on her birthday, September 6, 2019 with loving friends by her side. Ellen was predeceased by her parents, Howard and Marion York and her foster son Jay Burleigh. Surviving family members are her foster daughters, Tina Sheehan of Abbot and Rebecca Smith of Bangor and foster son Steven Crowell of Bangor; her brothers, Arthur York, David York and his wife, Rhonda all of Medway; her sister, Susan White and her husband, William of Lake Charles, Louisiana; her sister-in-law Lynn York also of Medway; several nieces and nephews and special friend, Lynn Cyr of Bangor.
Ellen will be remembered for her quick wit and sense of humor as well as her dedicated service of helping others. For 22 years, Ellen was owner and operator of York Foster Home. She was a devoted foster mom and provided a loving home for her family. Ellen loved to travel. When her God son, Nick Cyr was growing up she took him on many adventurous trips which they both enjoyed. Ellen had a love for animals and raised several puppies for the NEADS program. Her two loving cats were a blessing to her. As Ellen's illness took over she remained positive and upbeat. She received joy in making other people laugh. She never dwelled on what she could once do, but would celebrate what she could do in the present moment. Ellen's last place of employment was with Visiting Angels which was a blessing to her. When she was hired at Angels it was with a sense of coming home. She realized instead she was on a path for going home. She was a member of All Souls Congregational Church, Bangor and now God's faithful servant is home.
Special thanks to Hospice of Northern Light Health and dedicated friends who helped in so many ways. Also a heartfelt thanks to all the special friends from Visiting Angels and All Soul's Church who with loving hands provided care, comfort and support.
A service honoring Ellen's life will be held 11 AM Wednesday, Sept. 11, 2019 at All Souls Congregational Church, 10 Broadway, Bangor with the Rev. Chad L. Poland, pastor and teacher, presiding. A reception will immediately follow and burial will be at Mt. Hope Cemetery, Bangor. Arrangements are trusted to Kiley & Foley Funeral Service, 299 Union St., Bangor and messages and memories may be shared at kileyandfoley.com.