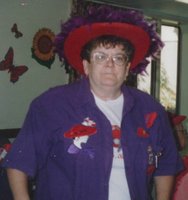 Annie Laurie King
Annie L. King
Levant—Annie Laurie (Sprague) King, 66, passed away February 17, 2019, surrounded by her loving children. She was born July 22, 1952, in Oneonta, NY, the daughter of Ralph and Virginia (Thayer) Sprague.
Annie's favorite and most cherished thing in life was her family. She enjoyed spending any time she could with them. She was amazed by her grandchildren and how fast they grew, as well as the smiles and laughs they gave her. Annie had many things she enjoyed, including reading, camping, dancing, country music, going to the Fryeburg Fair, cruising, and traveling to Florida. Many of those things she did with her husband and best friend Bob prior to his passing. She was a member of the Red Hat Society.
She was predeceased by her husband of 42 years, Robert King, Sr.; grandchildren Jimmy McPhearson III, R.J. Picken, Jr.; brothers Dennis, Tim, Jerry Lockwood; son-in-law James McPhearson, Jr. Annie is survived by children Kathy Picken and husband Richard of Carmel, Laurie Ashman and husband John of Levant, Robert King, Jr. of Levant; six amazing grandchildren Maureen and Tyler Klink, Rachel and John Ashman, Nelson and Mason King; siblings Linda Albert, Elaine Neilander, Amber Young, Cindy Sprague, Phyllis Wolf, Dan Sprague, Chris Sprague; sisters-in-law Judee Sprague, Doris Alley, Betty Goodwin; many nieces, nephews, great-nephews, and great-nieces.
A celebration of life will be held Saturday, April 6, 2019, at a time and location to be announced. Interment will be in the spring at Waugh Cemetery, Levant. Messages and memories may be shared with the family at kileyandfoley.com
Arrangements by Kiley & Foley Funeral Service, 299 Union St., Bangor.