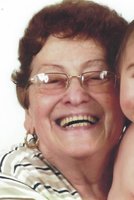 Ursula Hildegard Blake
Bangor – Ursula H. Blake, 86, died March 3, 2019 in Bangor. She was born March 2, 1933 in Germany, the daughter of Artur and Hildegard Dreiocker.
Ursula moved to the United States with her children in 1961 where she resided in California for many years. In 1969 she proudly became a US citizen. In 1978 she moved to Maine to be closer to her family.
Surviving are two children, Susan Boulier and her husband, Brent of Bangor and Rhoda Blake and her husband, Danny Baker of Colorado; two grandchildren, Matthew Ewings of Skowhegan and Yussif Rishani of Bucksport; five great grandchildren, Tre and Ty Ewings, Joseph, Zachary and Payson Rishani; two sisters, Gisel Vafiades of Bangor and Angela Schonburner and her husband, Bernd of Germany; several nieces and nephews. She was predeceased by a son, Jess Blake in 1980, by her parents and by one brother, Horst Dreiocker.
A graveside service will be held in the spring at Mt. Hope Cemetery, Bangor at a time to be announced. For those who wish memorial contributions may be made to Bangor Nursing & Rehab Center Memory Care, 103 Texas Ave., Bangor, ME 04401. Arrangements trusted to Kiley & Foley Funeral Service, 69 State St., Brewer. Messages and memories may be shared with her family at kileyandfoley.com.