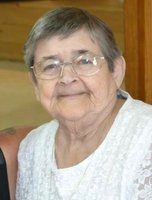 Catherine A. Fessenden
Catherine A. Fessenden, 92, passed away November 2, 2020 at her home in Bangor surrounded by her family. She was born February 9, 1928, in Bangor, the daughter of Stephen C. and Margaret M. (Nash) McNeil.
Catherine graduated from John Bapst High School and was a dedicated homemaker. She was an avid New England sports fan who especially enjoyed watching the Red Sox, Patriots and Tom Brady. She was known as "Nana" to the children for whom she babysat and she liked to gather with family and friends to play cards, especially SCAT. Often at birthday parties she would be found with a special napkin that she took as a souvenir. She was also known for always having special treats hidden in her purse that she loved giving away. We know that she is happy in heaven being with her mother and the rest of her family.
Catherine is survived by one sister Sally McNeil; her children, Peggy Cota, Arnie Fessenden and wife, Sharon Cormier, Steve Fessenden to whom her family is grateful for having looked after her and Cathy Shumaker and husband, Henry; six grandchildren, Laurie, Brian, Michael, Sheri, Shannon and Elizabeth; ten great-grandchildren; Catelyn, Colin, Brandon, Brianna, Alexander, Will, Carrie, Jason, Joseph and Katrina; two great great grandchildren, Aaliviana and Elijah and many nieces and nephews. She was predeceased by husband Arnold Sr. and by her siblings Mary, Gordon, Mickey, John, Edward, Stephen, Peggy, Jody, Betty and Patsy; and by a special son-in-law, Robert Cota.
Catherine's family kindly thanks the staff of Kindred Hospice, especially Lisa, Pam, Michelle and Eric for being there for her as well as Jodi, for being a wonderful friend to us during her final days. They were all fantastic and each got to know and love her and she them.
Services will be held at a later date. Arrangements by Kiley & Foley Funeral Service, Bangor and Brewer. Messages and memories may be shared with the family at kileyandfoley.com. In lieu of flowers, donations may be made to Kindred Hospice, 824 Stillwater Ave., Suite B Bangor, ME 04401.