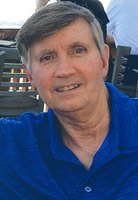 William H. Armes
Brewer—William "Bill" Headley Armes, 72, died November 8, 2020 in Bangor after a brief illness. He was born March 15, 1948, in Massachusetts, the son of Headley and Dorothy R. (Gahagan) Armes.
Bill attended Brewer High School his freshman and senior years and New Hampton Preparatory School in New Hampshire his sophomore and junior years. He graduated from the University of Maine, Orono.
He loved all sports. He played basketball, baseball, and football at Brewer and New Hampton and went on to play basketball at the University of Maine for two years. Bill was particularly proud of being the single game record holder for most points scored in a single game at Brewer High School with 45 points which was prior to instituting the three point shot.
Bill worked for Standard Shoe Store from 1970 until their closure. He became one of the few employees who helped open Filene's and closed Macy's at the Bangor Mall.
He is survived by wife Mary Lou Armes and their son Travis H. Armes.
A private graveside service will be held at Woodlawn Cemetery, Brewer. Due to COVID restrictions, this will be restricted to immediate family. A Celebration of Life will be held at a later date.
In lieu of flowers, donations may be made to the Bangor Humane Society, 693 Mt. Hope Ave., Bangor, ME 04401, or Lafayette Family Cancer Center, c/o Northern Light Health Foundation, P.O. Box 931, Bangor, ME 04402-0931.
Arrangements by Kiley & Foley Funeral Service, 69 State St., Brewer. Messages and memories may be shared with the family at kileyandfoley.com