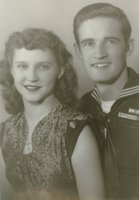 Hazel Marie Savoy
Brewer--Hazel M. Savoy, 94, passed very peacefully into heaven to be with her beloved husband James T. Savoy of 72 years. She was surrounded by her loving family.
Hazel loved dancing, sewing, knitting and cooking. She loved having her family over for Thanksgiving and Christmas meals. She loved eating and especially enjoyed Dairy Queen, lobster rolls and The Country Villa homemade custards! She enjoyed going to camp with her family at Bayside, and also Schoodic Point for picnics and steamed clams. She was a waitress in her early years and also worked at Bangor Drug Company. She was known for her beauty and spirited personality.
She was predeceased by her beloved husband James T. Savoy; parents Gertrude and Ferdinand Dolliver; brothers Buddy and Frankie. Hazel is survived by daughters Janice Peavey and husband Joseph, Vicki Fisher and husband Callie; five grandchildren; seven great-grandchildren. Besides her loving family, she will be remembered by special friends Jessie, Sue, Polly and the staff and residents of The Country Villa.
We want to extend special heartfelt thanks and gratitude to the wonderful staff at The Country Villa, Stillwater Health Care and Beacon Hospice for her care.
There will be no services. In lieu of flowers, please donate to your local animal shelter in memory of her three beloved cats.
Arrangements by Kiley & Foley Funeral Service, 69 State St., Brewer. Messages and memories may be shared with the family at kileyandfoley.com