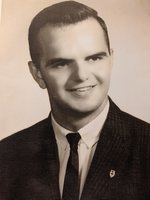 Paul Timothy Houser
Winterport—Paul Timothy Houser, Sr., 74, passed away November 12, 2020. He was born September 1, 1946, in Millinocket, the son of William and Chloris (Pomeroy) Houser.
Paul attended Millinocket schools and graduated from Stearns High School, Class of 1966. After graduation, he served in the U.S. Air Force during the Vietnam War. He was a dog sentry handler stationed in Korea. He was a proud disabled vet and was a member of VFW #1761. Following his military service, Paul worked as an estimator at Millinocket Foundry and Machine Company. He was a member of the Millinocket Fire Department. After his retirement, he worked at Basketworld in Bangor as a bookkeeper. Paul enjoyed fishing, gardening, woodworking, metal detecting, and stamp collecting. Paul was affectionately known to his grandchildren as "Babby".
He was predeceased by his parents; sister Marianne Anderson; brother William Houser. Paul is survived by wife of 24 years, Deborah (Coleman) Houser; children Paul Houser Jr., and wife Juniper, Carrie Houser, Kelly Jones and husband Bryce; grandchildren Cameron Houser, Gage Houser and wife Erika; great-grandson Oliver; sister Philippa Nice of Millinocket; many nieces and nephews.
The family would like to thank the staff at Beacon Hospice for their kindness and patience caring for Paul in his last days. In lieu of flowers, donations may be made to Amedisys Foundation, c/o Beacon Hospice, 1026 Stillwater Ave., Bangor, ME 04401.
Services will be announced at a later time. Arrangements by Kiley & Foley Funeral Service, 299 Union St., Bangor. Messages and memories may be shared with the family at kileyandfoley.com