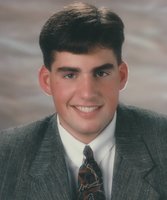 Christopher P. Pickering
Bangor--Christopher Paul Pickering died in a fire in his apartment on November 12, 2020. He was born in Bellevue, Washington on August 5, 1974.
Chris and his family moved to Bangor in 1978. He fell in love with this community. Chris attended St. Mary's School, Fifth St. Middle School and graduated from Bangor High School in 1993. He was a good student, but he truly enjoyed sports. Chris especially loved playing basketball for Bangor High, which won the Maine State Basketball Championship in 1993 after a 35 year hiatus. Chris was the top scorer in that championship game. We were so proud of him. He had so many friends throughout his early life. Very outgoing, he was extremely generous with his time. His sharing with others continued for his entire 46 years of life. Chris attended the University of Maine until schizophrenia, which begins in the early stages of life, crept in and took away his life as he knew it. One noted attorney who helped him said, "What always emerged was his inner sweetness; even as he fought the demons which beset him."
He is survived by parents Theresa and Joe Pickering Jr. of Bangor; sister Linanne of Malden, MA; brother Joe of Hampden; nieces Isabella and Caroline of Bangor and Hampden; many cousins.
The family wishes to thank Community Health and Counseling Services (CHCS) for their 25 years of helping Chris. In particular, thank you to Vern Wilbur and his staff for their outstanding concern given to Chris.
In lieu of flowers, please consider donations in memory of Chris, to Community Health and Counseling Services (CHCS), P.O. Box 425, Bangor, ME 04402-0425 (for their service to Chris and so many others.)
A Mass of Christian Burial will be celebrated 10 AM, Thursday, November 19, 2020, at St. Paul the Apostle Parish, St. Mary's Catholic Church, 768 Ohio St, Bangor. Due to COVID restrictions, masks and social distancing are required. Those attending in person, due to limitations on attendance numbers, will need to register online at:
https://www.signupgenius.com/go/4090C49AAA92AA4F94-funeral1
A livestream will be available via the following link (which will go live shortly before the 10 AM service starts):
https://venue.streamspot.com/event/MjQxMTM3NA==.
ANY QUESTIONS ABOUT THE LIVESTREAM OR REGISTERING FOR SERVICES NEED TO BE DIRECTED TO THE CHURCH AT (207) 217-6740.
Inurnment will follow the service at Mt. Pleasant Catholic Cemetery, Bangor.
Arrangements by Kiley & Foley Funeral Service, 299 Union St., Bangor. Messages and memories may be shared with the family at kileyandfoley.com