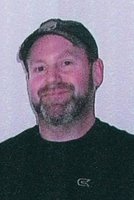 Mark E. Prescott
Mark E. Prescott, 49, died unexpectedly Monday Nov. 16, 2020 following a vehicle accident in Washington County. He was born May 29, 1971 in Dover-Foxcroft, Maine the son of Kenneth E. Prescott and Nancy L. (Hollis) Towle.
Mark grew up in Garland and was a 1990 graduate of Dexter Regional High School. He worked in the woods with his father beginning at an early age and there was no equipment that Mark could not operate. He hauled wood with a tractor trailer in all kinds of conditions. Mark worked as a truck driver for 30 years for Garelick Farms, BSP and most recently for Oakhurst Dairy. Mark was a truck and tractor pulling enthusiast with Maine Truck and Tractor Pulling Association having won several awards over the years. He also enjoyed hiking, mud running, four wheeling and he was an excellent cook. He was mechanically inclined and could fix about anything. He enjoyed his tractors and was happiest operating heavy equipment. Mark made a positive impact on everybody he met. He was a kind, genuine supportive individual with a big heart and was always willing to help with a smile and perhaps a joke.
Mark is survived by his father, Kenneth Prescott of Garland and his companion Ada Stein of Garland and his mother Nancy Towle of Corinna; his brother, Michael Prescott of Hermon and his adopted sister, Brandi Towle of Corinna; his uncle, Keith Prescott of Glenburn; aunts, Karen (Stuart) Lord of New Hampshire and Kathleen Prescott of Bangor; cousins, Scott Prescott and his wife, Christine of Lewiston, Allyson Welsh and her husband, Todd of Scarborough, Jennifer Clark of Nashua, NH, Eric Prescott of Lewiston, Stephen Lord and his wife, Delana of Vincennes, IN and Keith Prescott and his wife, Becky of Charleston; many special friends.
A graveside service will be held 10 AM Saturday, Nov. 28, 2020 at Corinthian Cemetery, Corinth with Rev. Dr. Steven Smith, pastor of the First United Methodist Church, Bangor and Corinth United Methodist Church, presiding. Those attending are asked to follow state required precautions including wearing a mask. For those who wish, memorial contributions may be made to the Bangor Humane Society, 693 Mt. Hope Ave., Bangor, ME 04401 or to a charity of choice.