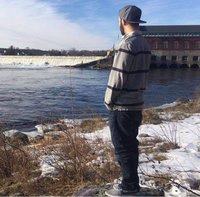 Michael John Perna
Michael John Perna, 31, died unexpectedly March 21, 2021. He was born June 24, 1989 in Bangor, the son of John and Anna Perna.
Mike graduated from Orono High School, Class of 2007. Mike's first word was "ball" and it went on from there. Beginning at a young age he was extremely active and competitive with everything he did--from soccer to youth hockey to high school athletics. Mike was someone who would give the clothes he was wearing to help a friend in need (and he did so more than once); one who ended nearly every conversation with those he cared about with "love you, be safe"; and one who considered his close friends to be family. He was fiercely loyal to those he cared about and could relate to anyone and make anyone feel at ease. He was the best friend to many. His primary goal in life was to bring joy to others. He had a smile that could light up a room, a laugh that was contagious. He had a thirst for life and experiencing all it had to offer. Mike loved sports, fishing, the outdoors, music, art, animals, horticulture, and cooking. What more would one need.
He leaves behind his parents John and Anna Perna of Milford; sisters Jessica Perna of Old Town and Tessa Collins of Bangor; brother Sol Collins of Eastport; nieces Madeline and Lucy Collins; uncle and aunt Joe and Debra Bradbury of Windsor; several cousins, and countless friends.
Those who wish to remember Mike in a special way may make gifts in his memory to the Animal Orphanage, 71 Airport Rd, Old Town, ME 04468.
A service of remembrance will be held at a future time. Arrangements by Kiley & Foley Funeral Service, Bangor and Brewer. Messages and memories may be shared with the family at kileyandfoley.com