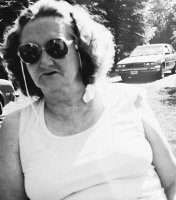 Gloria Frances Candage
Gloria Candage, 85, passed away peacefully Wednesday April 14, 2021, at Orono Commons. She was born May 23, 1935, in Seal Harbor, the daughter of the late Mildred (Wright) Keezer and Hollis Wright Jr.
Gloria loved spending time with family and friends, playing cards, and crocheting blankets for family members. She has lived in several different towns in Maine and was good at making friends everywhere she went.
She was predeceased by her parents; son Herbert (Gray) Hale; four husbands Stewart, Frank, George, and Roger; special aunt Gertrude; many other aunts, uncles, and cousins. Gloria is survived by her son Frank Rumill Jr. and wife Tammy; granddaughter Erica Bunker and family; grandson Dusten Phippen and family; special aunt Gladis Wright; many cousins and family friends.
A graveside service will be held later in the spring at a time to be announced. Arrangements by Kiley & Foley Funeral Service, Bangor and Brewer. Messages and memories may be shared with the family at kileyandfoley.com