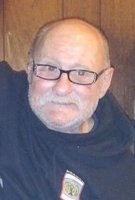 Michael E. Gordon
Michael E. "Mike" Gordon, 59, died April 17, 2021 in Bangor after a brief illness. He was born Sept 17, 1961 in Bangor, the son of Alton L. and Shirley M. (Marsh) Gordon.
Mike, as we all knew him, enjoyed being outside, building bonfires, fishing, hunting and anything outdoors. However, his favorite thing to do was to spend time with his grandkids. His smile was infectious and his laugh was memorable. Mike never met a stranger, and was always willing to help others.
Surviving are one daughter, Cady Gordon of Brewer; grandchildren, Skylar and Austin; one son, Joseph Degenhart of Darlington, SC; one sister, Betsy Gordon of Whiting, NJ and two brothers, Jeff Gordon of Skowhegan and Dannie Gordon of Florida.
Services were privately held. For those who wish, memorial contributions for family support purposes may be made to Betsy Gordon, 26 Sunset Road, Whiting, NJ 08759. Arrangements trusted to Kiley & Foley Funeral Service, Brewer and Bangor and messages and memories may be shared with his family at kileyandfoley.com.