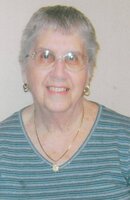 Marguerite Mary Birkel
Bangor—Marguerite M. "Marge" Birkel, 90, passed away October 9, 2021, surrounded by her loving family. She was born April 3, 1931, in Bristol's Hope, Newfoundland, Canada, the daughter of John and Nellie Butler.
Marge graduated from the Catholic high school and the commercial course in Harbour Grace. She took up employment with the United States Air Force at Ernest Harmon Air Force Base in Stephenville, Newfoundland in 1948. She worked in Base Communications as a telephone operator. It was there that she met Sgt. Charles J. Birkel, who she married at the St. Stephen Catholic Church in Stephenville on November 27, 1952. In December 1954, they rotated back to the United States. Charlie was assigned to the Air Force Orientation Group and Wright-Patterson Air Force Base in Dayton, OH. Throughout his career, Marge worked hard raising their three sons. Following Charlie's retirement, the family settled in Bangor so Marge could be close to the East Coast. The family became faithful communicants at St. Paul the Apostle Parish.
Marge was predeceased by her parents. She is survived by her husband of nearly 70 years, Charles Birkel; sons Charlie Jr. and wife DC, Kevin and wife Donna, Paul and wife Michelle; many grandchildren and great-grandchildren.
A Mass of Christian Burial will be celebrated 11 AM, Thursday, October 14, 2021, at St. Paul the Apostle Parish, St. Mary's Catholic Church, 768 Ohio St., Bangor. Burial will immediately follow at Mt. Pleasant Catholic Cemetery, Ohio St., Bangor. Messages and memories may be shared with the family at kileyandfoley.com
Arrangements by Kiley & Foley Funeral Service, Bangor and Brewer.