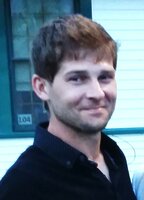 Joshua R. DeVault
Corinth - Joshua R DeVault, 39, of Corinth, passed away unexpectedly on Nov 25, 2021. Joshua was born on April 26, 1982 in Presque Isle, and leaves behind a son, Tristan DeVault of Waldoboro, ME, his mother and step father, Cynthia and David Cooper of Corinth; his father Kevin DeVault of Hurleyville, NY; grandmother and grandfather, Gloria and Charles Hropvich of Fenton, Delaware; five siblings, Hilary Gotlieb of Eddington, Michael, Bethany, Stephen and Benjamin DeVault of Hurleysville, NY; a niece, Makayla Harburger of Eddington and many aunts, uncles and cousins. He was predeceased by a brother, Justin Neely.
Joshua was a loving and beautiful soul and a free spirit who always addressed everyone with a smile. Taking time for a conversation for those who needed a kind person to talk to and a lending hand to others who were in need, giving away anything he had without question. He enjoyed nature and being outside and animals most of all saving even the smallest of God's creatures. Every dog he encountered immediately taking to him and loving him. He had a lot of silly and funny moments which his family will cherish forever. Joshua is with his heavenly father now and all his family will see him again in heaven as he starts his beautiful journey with Jesus. We will not say goodbye to Joshua but will say until we meet again someday and all our love goes with you. We send you off with our biggest hug and embrace.
A shared sentiment on strength between Joshua and his son, Tristan
"You can throw me to the wolves, tomorrow I will be back, leader of the whole pack. You can beat me blue and black, every wound will shape me, every scar will build my throne."
A family graveside memorial service will be private. In lieu of flowers, donations can be made to the Bangor Area Homeless Shelter, 263 Main St, Bangor, Maine 04401 or online HERE . Arrangements trusted to Kiley & Foley Funeral Service, Bangor and Brewer. Messages and memories may be shared with his family on the tribute wall of kileyandfoley.com.