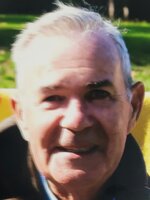 David Allan Haskell
Bangor—David Allan Haskell, 81, passed away December 27, 2021. He was born in Ayer, MA, on March 16, 1940, the son of Warren and Margaret (Cobb) Haskell.
David grew up in Bangor and graduated from Carmel High School in 1958. He then enlisted in the Air Force and served for four years as a Hospital Corpsman. Following discharge, he worked as a Psych Tech at BMHI and then went to work at Mt. Hope Cemetery for 43 years until his retirement. He enjoyed those he worked with, many who remained lifelong friends.
He loved the outdoors and sports, often hiking in Acadia and Baxter State Park with his brother Carroll. He enjoyed going to Portland Sea Dogs and UMaine football games with his grandson Patrick. He was a lifelong Red Sox fan.
He was predeceased by longtime companion Ruth Knight; his parents; stepfather C.E. Ellingwood; aunt Virginia Haskell; uncle David Haskell; sister Patsy Johnson and husband Laurel; nephew Daren Johnson. David is survived by daughter Margaret Haskell and partner Kim Weston and their son Patrick Kinney of Gardiner; son Mark Haskell and his daughters Jessica Alley (passed in 2019) and husband Matt, Janelle and partner Chad Knox; six great-great-grandchildren; sister Jane Ellingwood; brother Carroll Ellingwood; half-sister Elizabeth Haskell; half-brothers Larry, Martin, and Czarra Haskell; nephews Brent and Kent Johnson; mother of David's children, Charlotte King.
Private interment will be held at Mt. Hope Cemetery, Bangor. Messages and memories may be shared with the family at kileyandfoley.com
Arrangements by Kiley & Foley Funeral Service, Bangor and Brewer.