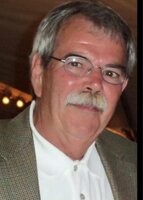 William Joseph Leeman
BANGOR - William Joseph (Bill) Leeman died January 2, 2022, at a Bangor hospital with his wife by his side. He was born in Bangor April 2, 1950 (his grandmother Leeman's birthday and her youngest and favorite grandchild), the son of John A. and Josephine (O'Donnell) Leeman.
A 1968 graduate of John Bapst High School, Bill earned his ABS degree in Business Management from Beal College. He retired from Bangor Hydro/Emera Maine, now Versant Power, after many years as a systems operator. While Bill played a variety of sports during his school years and later enjoyed deer hunting in the fall, his true love was golf. On days off and since retirement, Bill could usually be found teeing off at Bangor Muni with his golf buddies.
Bill is survived by his wife, Vicky Umble Leeman of Bangor; son, Christopher John Leeman; grandchildren Cooper Jackson Leeman and Siena Sophia Leeman, all of Virginia; step-son, James Lowe of Connecticut; brother, John Leeman Jr. (Barbara) and sister, Josephine Chasse, both of Brewer; niece Catherine Thistle (Peter) and her children, Samuel and Selina of Maryland; nephew, John Chasse of Howland; Umble brothers-in-law, Jim of Bangor, Tim of Hermon, and Terry (Sandi) of Holden; sister-in-law, Jodie Gehan of Glenburn and their children; several cousins. Bill was predeceased by his parents; all his aunts and uncles; brother-in-law, Gilman Chasse; sister-in-law, Irene Umble.
The family wishes to thank the staff of Northern Light Eastern Maine Medical Center and Cancer Care of Maine for their compassionate care of Bill during his illness.
For those who wish, donations in Bill's memory may be made to Northern Light Cancer Care of Maine, 33 Whiting Hill Road, Brewer, ME 04412.
A funeral service will be held 2 PM, Monday, January 10, 2021, at Kiley & Foley Funeral Service, 69 State St., Brewer. Family and friends are invited to visit from 1 PM until the start of the service. Messages and memories may be shared with the family at kileyandfoley.com