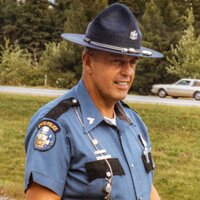 Jerry T. Sullivan
Jerry died peacefully at his home as he had wished, with his wife Mary Ellen (McNally) at his side, keeping true to the vows they shared at their wedding 60 years ago.
Upon completing high school at Higgins Classical Institute, Jerry joined the U.S. Marine Corps, where he was an Infantry Marine Rifleman and EOD Specialist. Jerry proudly served the Corps, but his true passion was to join the Maine State Police. In 1958, he was accepted and became a Maine State Trooper; a position he held for 36 years, retiring as Corporal in 1994. During his years as a Trooper, he was also a member of the Maine Air National Guard, retiring in 1991. He was proud to serve both Country and State. Jerry was an excellent marksman, fisherman, storyteller and tinkerer of all things. But more importantly, Jerry was a devoted husband, father, brother, neighbor and friend. Jerry enjoyed spending time with his family and hosting family reunion pool parties at his home. He spoke often of his many fishing trips with his brother-in-law Matt, friends, family and special nephew Matt (Bud) Brooker.
Jerry is survived by his loving wife, Mary Ellen (McNally); children: Michael (Cathy) of Rochester, NH, Maureen (Michael) of Pittsfield, and Mark (Jennifer) of Glenburn; grandchildren, Andrew, Alex, Christopher, Monica and Brian; great-grandchildren, Bentley, Lily, River and Ryan Marie; sister, Mary McBain; sister-in-law, Betty Blackshaw; brother-in-law Michael (Carol) McNally; nieces and nephews in the Brooker family, Wilson family and McNally family. He was predeceased by his parents; six sisters; parents-in-law; sisters-in-law, Jeanette McNally and Joan Wilson; brothers-in-law, Ken Blackshaw and Ted Wilson.
A Mass of Christian burial will be celebrated 1 PM, Monday, February 28, 2022, at St. Paul the Apostle Parish, St. Mary's Catholic Church, 768 Ohio St., Bangor. Burial will immediately follow the service at Mt. Pleasant Catholic Cemetery. All are invited to a reception beginning at 3 PM at Jeff's Catering, 15 Event Center Way, Brewer. Arrangements by Kiley & Foley Funeral Service, Bangor and Brewer. Messages and memories may be shared with the family at kileyandfoley.com