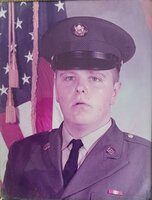 Joseph Gary Mitton
BREWER - Joseph "Joe" Gary Mitton, 67, passed away April 26, 2022, at St. Joseph Hospital, after a long illness. Joe was born November 10, 1954, in Hartford, CT, the son of Pauline Marie "Soucie" Raymond and Douglas Ray Mitton.
At five years old, Joe's family moved to Eagle Lake. Joe always talked about the wonderful time he spent with his grandfather as a child. Joe joined the Army in November 1972 and was on active duty until November 1974. He then joined the Army National Guard in Brewer and later Bangor, where he retired in 2014 as Sergeant E5. Joe was employed at Eastern Fine Paper from 1977-2003. Joe then worked as a dump truck driver until October 2011.
Joe was an avid hunter and fisherman, and spent many hours with his Uncle Norman and cousin Jim.
Joe is survived by wife Elaine; son Joseph II, and wife Shelly of Corinna, ME; son Jacob and wife Kristi of Holden, ME; sister Bernie and husband Jim of Palm Coast, FL; brother Nick and wife Mary of Enfield, CT; sister Susie and husband Randy of Ellington, CT; granddaughter Bridget and great-grandson Noah; special grandsons Oliver and Everett.
A gathering will be held 1-3 PM, Saturday, June 18, 2022, at son Joey's home in Corinna. Please reach out to Elaine if you plan on attending Joe's gathering.
Arrangements by Kiley & Foley Funeral Service, Bangor and Brewer. Messages and memories may be shared with the family at kileyandfoley.com