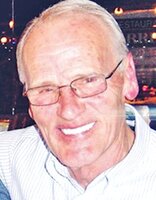 James A. Bessey
BANGOR - James Alford Bessey, "Jim," aged 79, of Bangor, Maine, peacefully passed away on May 29, 2022, surrounded by love.
After graduating from Winslow High School in 1961, Jim enlisted in the U.S. Air Force, serving six years from 1964 to 1970, serving as Air Policemen. Jim was the proud owner of Basket World and Hobbies Plus in Bangor for numerous years. Many locals will fondly remember his dashing smile and superior customer service at Standard Shoe store and later for his stunning displays in the home goods section of TJ Maxx and More.
In Jim's eyes, the most significant accomplishment was his storybook romance with the love of his life, Robert Mutty. The two met in 1985 and wed in a private beach ceremony on the shores of Waikiki Beach, Oahu, in 1989, and later in 2013, surrounded by family and friends in their backyard oasis. Although Robert predeceased Jim in 2019, Jim's love and devotion never waned.
Jim loved visiting with friends, gardening, remodeling, interior design, all the finer things in life, and his cherished dogs, "his boys," Kippy, Max, Rusty, Ty, and Blue.

Jim will be especially missed by his devoted niece, Jessica Ward; his dear friend, Jeff Smith; the crew at TJ Maxx; his sister, Rachel Mccollor; brothers, David and Gary Price; brothers-in-law and sisters-in-law, Alex and Karen Ladjimi, and Michael and Kathleen Lavin; and his nieces and nephews, Heather Umel, Jenifer McKenney, Maryandra Look, Neil Piper, Ryan Piper, Alexandra Jeffrey, Tony Lavin, Lauren Lavin, and Raejean Prince.

Jim's family would like to invite friends to a celebration of life at Kiley & Foley Funeral Services on Tuesday, June 14, from 5-7 p.m., located at 299 Union Street, Bangor. The family would like to send a special thank you to Jim's neighbor Carlos Graves for his kind heart and friendship.