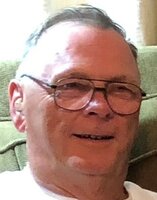 Jenner John "Brownie" Brown
CARMEL – Jenner John "Brownie" Brown, 74, passed away September 9, 2022, at a Bangor hospital following a long illness. He was born in Eastport on May 15, 1948, the son of Clayton and Shirley (Ashby) Brown.
He attended schools in Pembroke, Maine, graduating from Pembroke High School, Class of 1966. He went into the Army, where his time was spent in the Vietnam War from February 1968 to September 1969. After discharge, he worked at the mill in Woodland. After moving to Bangor, he worked many years at New England Pipe & Supply, Co. He then worked at Standard Electric Co./Wesco, and at GE Supply Co. in sales before retiring in May of 2010. Jenner also owned his own company for 20 years painting parking lots on the side. Jenner was a Mason, Shriner, and member of the Eastern Star, among other organizations.
Jenner enjoyed golfing, traveling, camping, being with friends and family, especially his grandchildren, and driving his father-in-law to get ice cream.
Jenner is survived by wife Lori Brown; children Aaron Brown and wife Rebbeca, Andrew Brown and wife Tracy, Anita Morgan and husband Randy; grandchildren Jazmine, Zachary, Kaitlynn, KayLeann, Alexander and Cavanaugh Brown; great-grandchildren Addison, Luna, Asher, and Nova Brown; siblings Sharon Melanson, Ronald Brown and wife Karen, Raymond Brown and wife Joanne, and Brent Brown; father-in-law Carl White; sister-in-law Carleen Dunham; many nieces and nephews. In addition to his parents, Jenner was predeceased by sisters Mary and Ruby, and brother-in-law Wayne Melanson.
Thank you to the 6th floor nurses, CNA's, doctors and security guards at St. Joseph Hospital for everything you did for Jenner. Gifts in his memory, to support the purchase of nursing training equipment, may be made to St. Joseph Healthcare Foundation, P.O. Box 1638, Bangor, ME 04402.
A Celebration of Life will be held 4-7 P.M. Monday, October 24, 2022, at the Bangor Masonic Center, 294 Union St., Bangor. Jenner will be interred privately with family at Highland Cemetery, Carmel. Messages and memories may be shared with the family at kileyandfoley.com