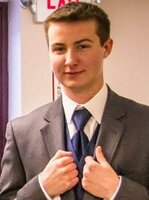 Cameron J. Clewley
Cameron J. Clewley, 27, died unexpectedly January 27, 2023 in Newburgh. He was born March 16, 1995 in Bangor, the son of Anthony J. Clewley and Eleena M. (Grant) Corbett. Cameron graduated from Hampden Academy in 2013 with honors.
Surviving are his parents, Tony Clewley of Bangor and Eleena and John Corbett of Newburgh; his fiancée, Brittany McCurdy of Newburgh; his brother, Joshua Clewley of Bangor; two stepsiblings, Jennifer Whitmore and her husband, Phil of Orange, MA and Dan Corbett of Athol, Mass; maternal grandparents, Betty and Harold Charlton of Brewer; several aunts, uncles and cousins. He will be remembered by his special friends, Dylan Murray and Britt Sulinski, Sara Soreth and partner, Sam who was like a sister to Cameron; a very special nephew, Myles Soreth whom Cameron loved very much and was present at his birth. He will also be missed by his dogs, Nukka, Jax, Mack, Kona and Leo.
Services will be held privately. For those who wish, memorial contributions may be made to care for his "fur babies" care of Brittany McCurdy, PO Box 347, Hampden, ME 04444. Arrangements are trusted to Kiley & Foley Funeral Service, Bangor and Brewer. Messages and memories of Cameron may be shared with his family at kileyandfoley.com.