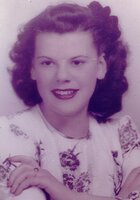 Irene Caroline Walker
Irene C. Walker, 95, passed away peacefully March 10, 2023 at her Bangor home. She was born Nov. 12, 1927 in Nova Scotia, Canada, the daughter of William and Laurie (Pollard) Walker.
Irene was a 1945 graduate of Brewer High School and was a member of the First Congregational Church, Brewer and the King's Daughters. Irene enjoyed her many jobs over the years and especially her time with the Senior Companion Program. Her happiest times were those spent with her family.
Surviving in addition to her husband David Walker of Bangor are her children, Mary Bishop, Shirley Norton and her husband, Bruce, Gus Frey and his wife, Barbara and William Murphy; 13 grandchildren, Brian and Matthew Murphy, Michael Washburn, Angela Sullivan, Norman and Chris Veillette and Victoria Smith, Kristen Olsen, Craig Frey, Renee Stupak, Maralee Stanevicz, April Horne and Carrie DeBeck; several great grandchildren. Irene was predeceased by a sister, Shirley Taylor, a daughter, Leita Washburn and by a great grandson, John Sullivan.
A private family service will be held at a later date. Arrangements by Kiley & Foley Funeral Service, Bangor and Brewer. Messages and memories may be shared with her family on the tribute wall of kileyandfoley.com.